Huawei FreeBuds 5 review – GSMArena.com news
Introduction
The FreeBuds range from Huawei has offered some great wireless earbuds over the years and the new FreeBuds 5 are the latest entry. They arrive with a bold new design, flagship-level features and a combined 30-hour battery life. FreeBuds 5 come as a successor to 2021's FreeBuds 4, which were a solid pair of open-ear buds.
The specs department looks quite impressive with 11mm drivers, an active noise cancelation system with three microphones on each bud, multi-point pairing, LDAC support and Bluetooth 5.3 connectivity. Can these oddly shaped buds compete with the premium offerings from the competition? These are our findings.
Design
The inspiration behind FreeBuds 5's daring design comes from glass-making and more specifically – Prince Rupert's drops aka Batavian/Dutch tears. The hardened glass beads are characterized by unusually strong rigidity in the round end of the glass which can withstand heavy blows while the tail end side is susceptible to fractures that can disintegrate the entire piece into dust.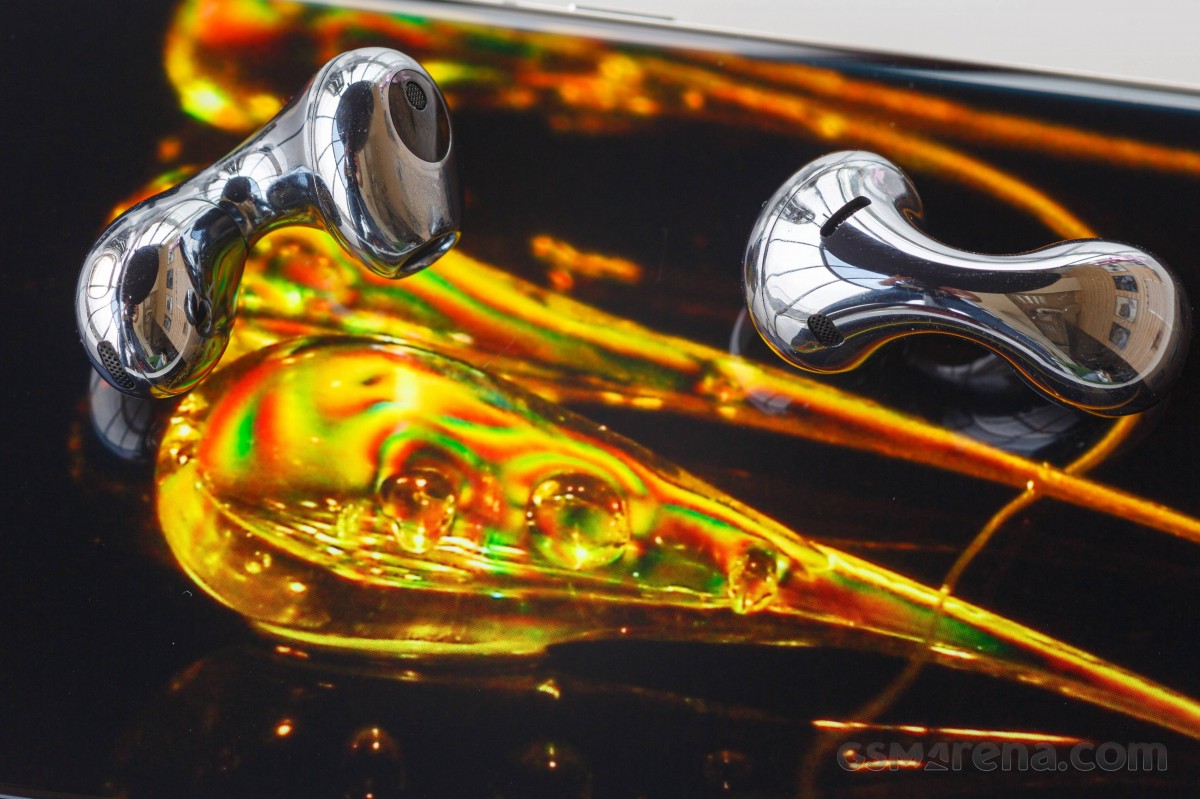 We can definitely see Huawei's glass-making inspiration in the FreeBuds 5 but we also get a nod of an evolved version of the Samsung Galaxy Buds Live aka Galaxy Beans from nearly three years ago. One thing's for sure, FreeBuds 5 stand out from just about every other pair of earbuds we've seen in recent memory and their design is certainly polarizing.
Huawei used a data simulation of hundreds of ear shapes during the design process to refine the FreeBuds 5 look and fit and reach the final retail version we have with us here. While the buds forgo in-ear silicone tips, they do feature silicone caps to help with their fit. You get two different sizes in the box. The packaging also includes a USB-C cable and manuals.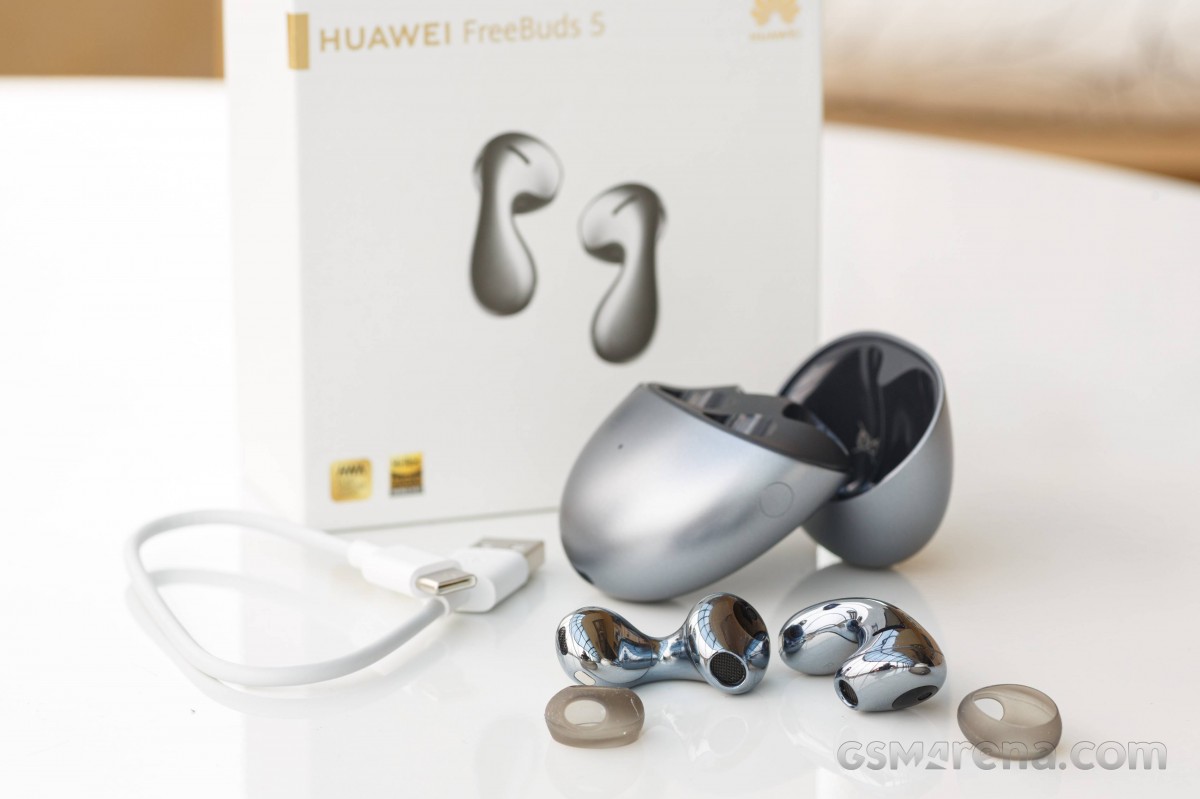 Our review unit comes in Frost Silver color which has a liquid metal-like look on the buds that's highly reflective. The charging case brings a pebble shape that opens up in the middle to reveal the buds. The closing mechanism is solid with a firm snap. The bottom of the case houses a USB-C port while the pairing button is on the right-hand side.
Each earbud weighs 5.4 grams while the case comes in at 45 grams. The open ear fit on FreeBuds 5 means they rest on the outside part of your ear canal without pushing into your ears like most wireless earbuds. This makes FreeBuds 5 one of the more comfortable earbuds for longer listening sessions. I could easily get through 3-4 hour sittings without feeling any pressure on my ears which is not something I can say about most in-ear buds.
While I enjoyed the relaxed fit of the FreeBuds 5, they did not work well with my ear shape during running and gym sessions as they were wobbling in my ears and even fell out a few times despite using the provided silicone ear caps.
Features
FreeBuds 5 feature 11 mm dual-magnetic dynamic driver units with a claimed 16Hz to 40kHz frequency response range. The buds connect via Bluetooth 5.2 and support dual connection to two devices as well as wear-detection sensors that automatically pause and resume media playback. Huawei phones and tablets running EMUI 10.1 and up also get a proximity pairing feature for seamless connectivity.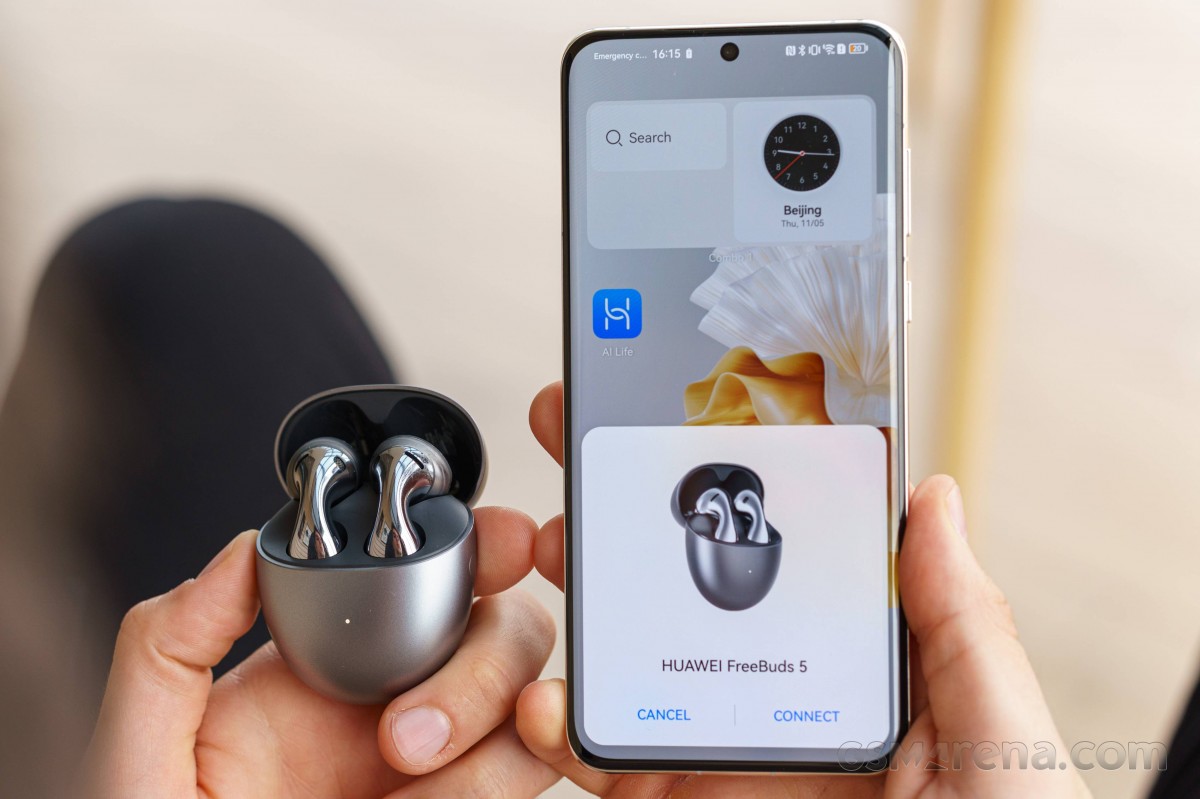 In terms of audio, FreeBuds 5 support the high-bitrate LDAC codec as well as Huawei's proprietary L2HC 2.0 codec. Huawei also claims FreeBuds 5 is 30% more sensitive at low frequencies than FreeBuds 4. The buds bring an adaptive audio equalizer that can be fine-tuned inside the Huawei AI Life app.
The companion app also allows you to toggle all sorts of features on the buds including noise cancelation, gestures, wear detection and software updates. The app also features a Find My Earphones setting that plays a loud chime on the buds if you've misplaced them.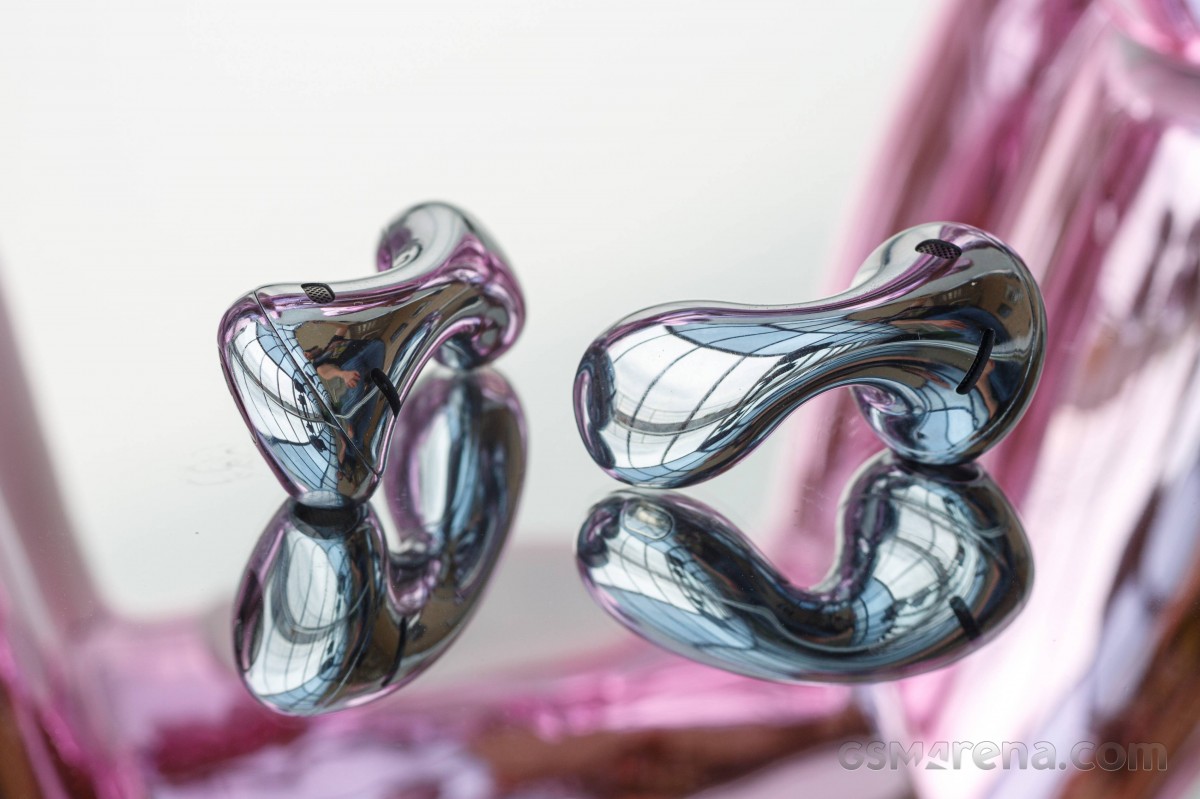 Despite their open-ear design, FreeBuds 5 come with noise cancelation via way of the three microphones housed on each bud which Huawei is calling Open Fit ANC 3.0. The buds also feature AI call noise cancelation that should help isolate your voice in busy environments. Another interesting feature is the built-in infrared sensors next to the drivers which scan your ears and tune the sound output based on the fit.
Programmable touch controls with single and double tap controls as well as swipes up and down to control the volume. The charging case supports both wired and wireless charging which is great to see. The buds also feature IP54 dust and splash resistance while the case does not provide any ingress protection.
Performance and Sound quality
Huawei FreeBuds 5 bring an above-average sound quality with a balanced sound profile stage and great low-range performance as advertised. Listening to a range of music styles shows the fine-tuning made by Huawei's team compared to the FreeBuds 4 and we are glad to report FreeBuds 5 deliver a better overall experience in all use cases compared to their predecessor.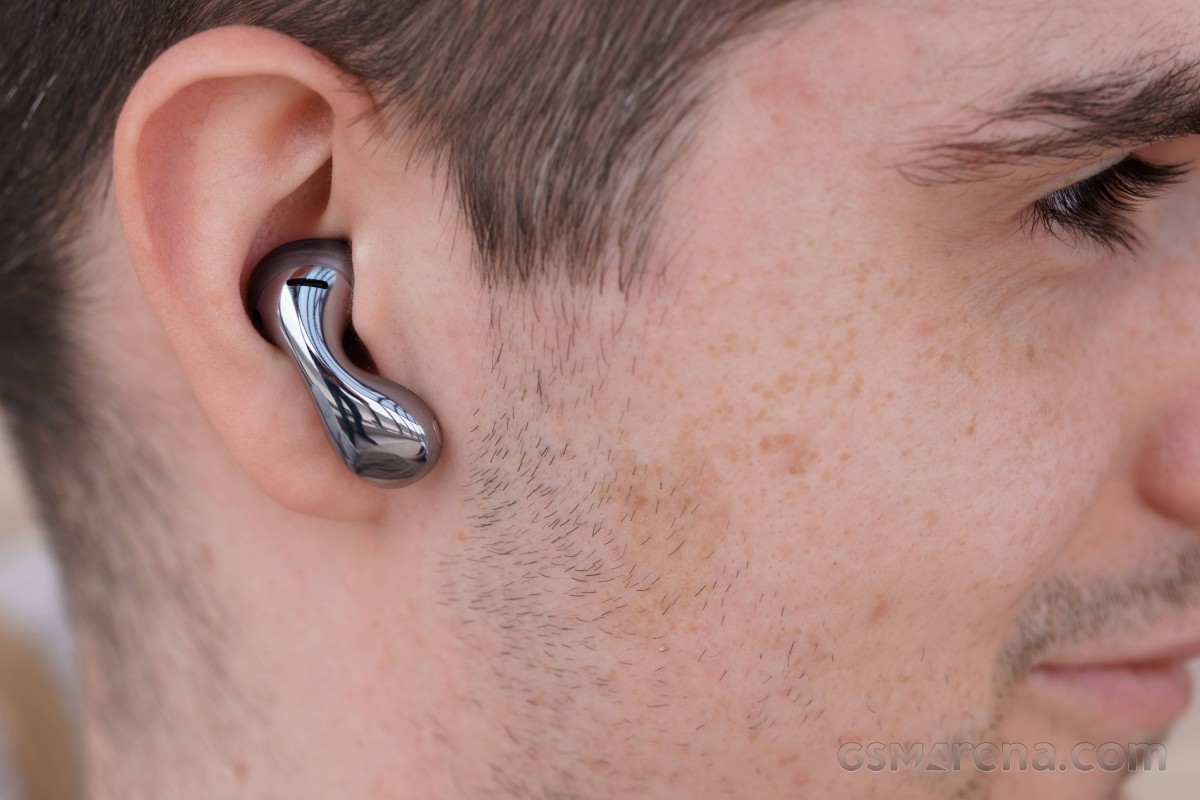 Acoustic music and instruments sound clear and faithfully reproduced on the FreeBuds 5 and the option to play around with the EQ allows you to tailor the sound to your specific hearing preference. The default EQ profile is a bit flat and we found the bass boost mode to offer the best experience out of the Huawei provided presets. You are free to tweak the sound profiles to your liking inside the Huawei AI Life app and save up to three custom presets.
As expected ANC from open-ear buds is not that impressive and it barely makes a difference to the noise around you. You will notice a mild decrease in the sound of air conditioners and other low-frequency noises but voices and louder objects will still easily overpower the FreeBuds 5's ANC system. You can also notice an immediate hissing effect when ANC is enabled and it tends to distort audio playback.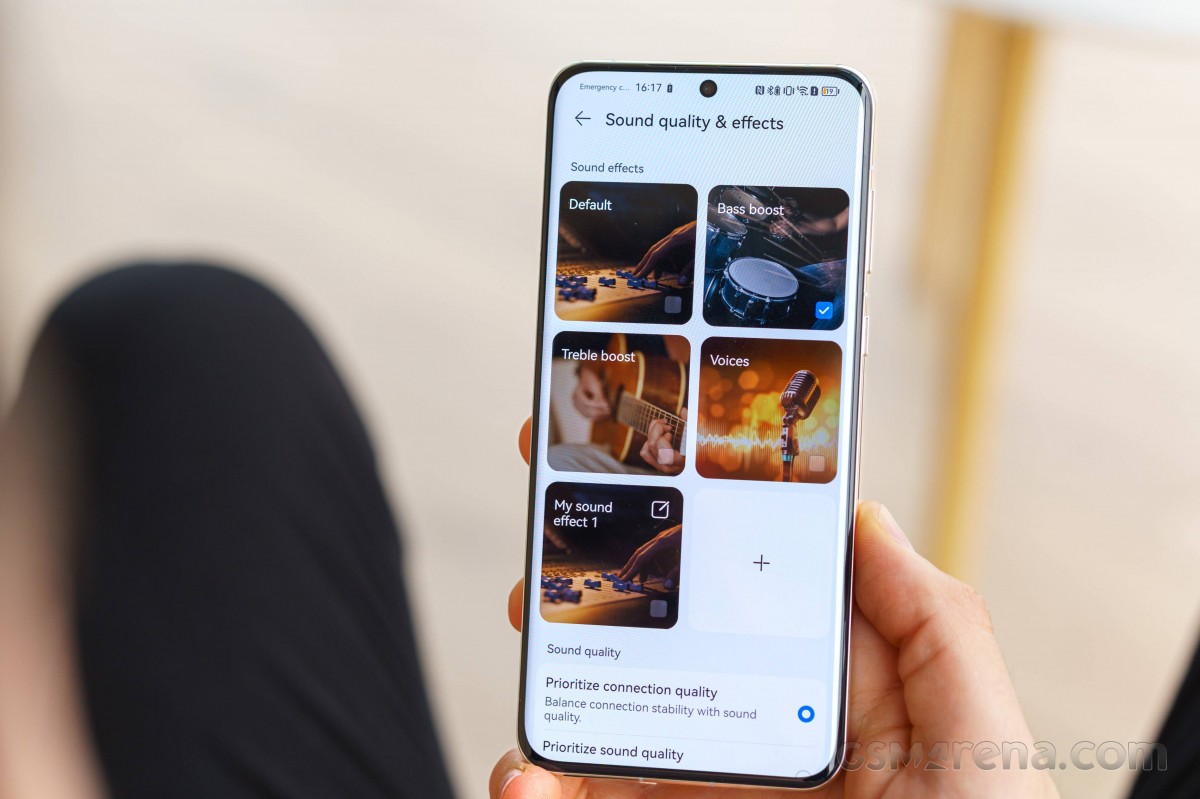 Gesture controls have been a hit-and-miss with some earbuds in the past but we're glad to report that FreeBuds 5 offer stellar touch controls accuracy. They also include a volume adjustment which comes really handy when you're away from your phone.
Connection strength was solid for the most part even when switching between devices. The advertised ten-meter connection range holds true even when you're a few rooms away from your audio source. The dual pairing feature worked well even though it took a few seconds at times when transferring between phone and laptop. There was a noticeable latency when watching videos on my laptop but that's common amongst wireless earbuds and they fared better when connected to a phone.
FreeBuds 5 worked well during calls indoors with people on the other end reporting loud and clear reception of my voice. The situation changed outdoors where stronger winds would overpower my voice but that's the case with most earbuds.
Battery life
FreeBuds 5 feature 42 mAh batteries inside the earbuds and a 505 mAh cell for the charging case. Huawei's claimed values suggest 3.5 hours of endurance with ANC on and 5 hours without ANC. The charging case can extend these values to 20 hours with ANC and 30 hours without ANC.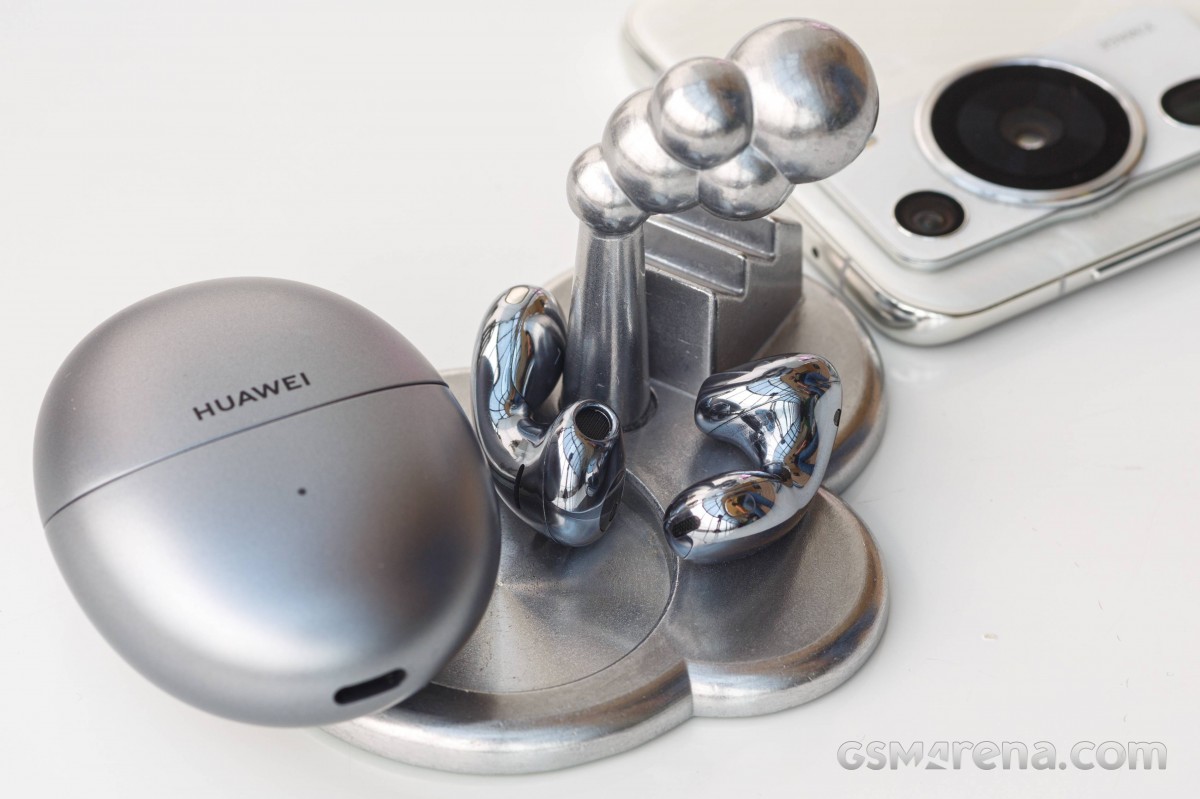 In our testing, we found these values accurate with the buds depleting after 4.5 hours of usage with ANC turned off and just over 3 hours with ANC on. The case provides up to five complete recharges. A full recharge of the buds and the case takes around 40 minutes via cable and over 4 hours via a wireless charger. FreeBuds 5 also support quick charge which nets you 2 hours of listening after 5 minutes on the charger.
Verdict
The FreeBuds 5 from Huawei bring one of the most flashy designs we've seen in the segment which instantly makes them stand out in the sea of competitors. Their lightweight open-ear design is comfortable for longer listening sessions though the fit will ultimately depend on your ear shape. Sound quality is above average and you'll enjoy clear audio with the high-bitrate LDAC codec support.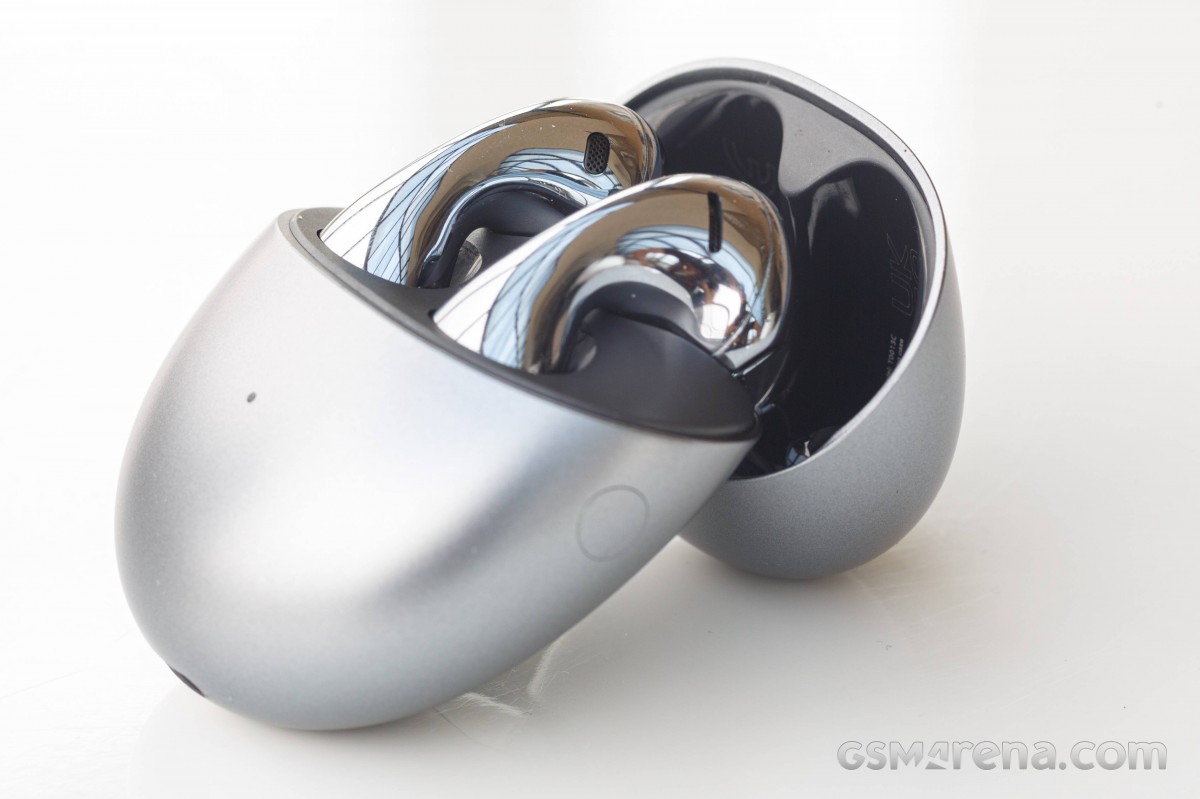 FreeBuds 5 are not without their flaws as the ANC system is barely noticeable, the microphone voice pickup is easily muffled and they may have a hard time staying in your ears. What you are getting is a flagship pair of wireless earphones with all the high-end features you'd expect, a unique design and solid battery life.
At €159 FreeBuds 5 strike a fair price for the features and sound quality. You should have them in consideration if you're in the market for a new pair of earbuds and are not startled by their avant-garde design.